103 cattle killed by lightning strike in Rondonia, Brazil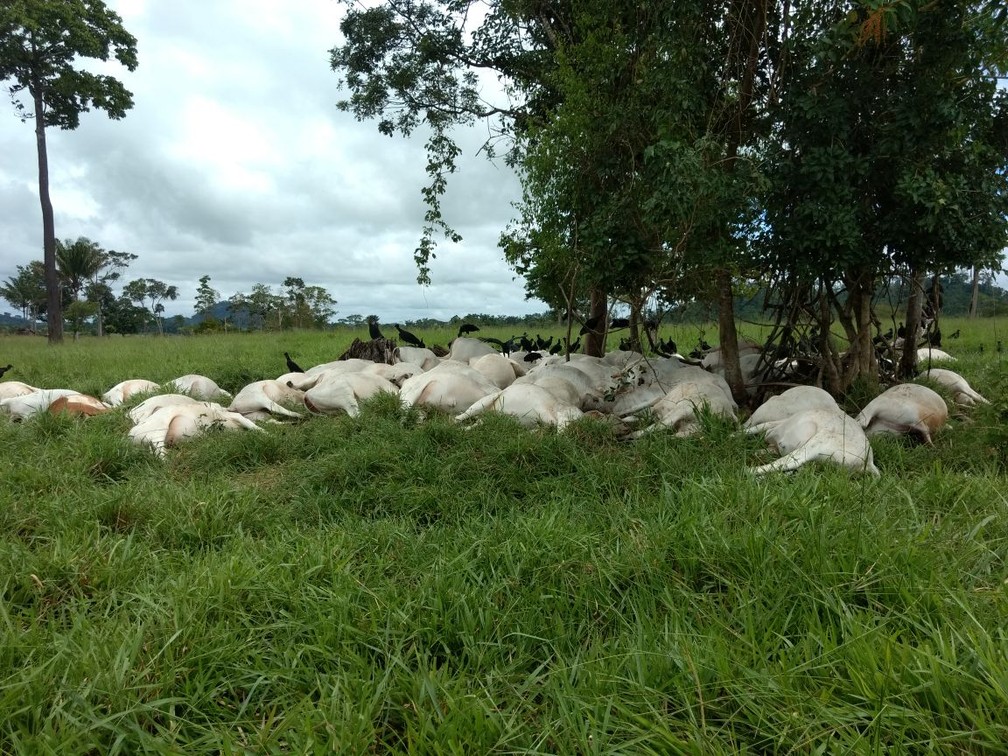 A farmer had a loss of about $ 130,000 after a lightning strike on his property and killed 103 Nelore cattle that were in the pasture, on Line 8, in Cacoal (RO), a municipality 480 kilometers from Porto Velho. The unloading happened during a thunderstorm this week, and a day later a person passing a road saw the dead oxen and warned the farm worker.
The Agency of Sanitary Defense Agrosilvopastoril of the State of Rondônia (Idaron) was in the proving place the cause of the death of the animals.
According to Paulo Elifas, owner of the farm, he was in the property at the moment the lightning struck. According to him, the discharge caused a very loud noise during the night.
"I heard the noise of the thunderbolt, a rumble, and I remember that I still thought of the danger of that thunderbolt falling into the house, for with all that noise there would be nothing left. When the rain subsided I returned to Cacoal, "Elifas told G1 .
The next day a farm worker approached where the cattle were, but he believed the animals were asleep.
Some time later, a person passed by the road near the property and as he saw a lot of animals together, but none of them moving, he decided to verify, noting the death of the herd.
"This person went to the ranch foreman and said the cattle were dead. As soon as I was informed, I proceeded to the property. I'm very upset about all this. They were all together under a tree stand to protect themselves from the rain. With the tree nothing happened, I believe that the lightning has fallen only on the animals, "explained the cattle rancher.
Dead cattle would be put to fattening next month and later slaughtered. With the death of 103 cattle, Elifas estimates that it had a loss of approximately R $ 130 thousand.
"In commercial life we ​​have a sequence, a preparation. Those heifers were to be put into the trough, so he broke that sequence. I do not know what I'm going to do in the next 90 days to solve the problem. So it's a loss that stays, "lamented the rancher. The animals were buried on Wednesday (14).
Courtesy of g1.globo.com