4 more dead #dolphins, 313 dead this year along the coast of #Crimea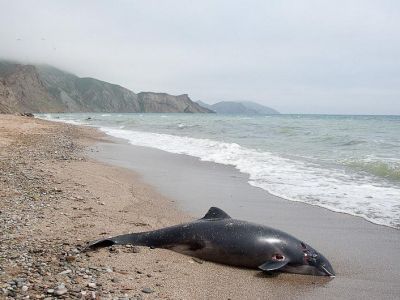 In recent days, 5 dolphins jumped to the shores of Crimea, one was saved.
"Of these, three were alive – a white-cask in the Sevastopol region, a baby Azovka in Sudak, bottlenose dolphin in Yalta. Of these three, we managed to help only the little moth. About azovka and bottlenose dolphin we were informed in fact, after a time after the release. Unfortunately, they could not be saved, "the organization said. Two more, – azovka and bottlenose dolphin – were found dead in the Sevastopol region, noted in the Center for the Study, Rescue and Rehabilitation of Marine Mammals "Tranquil Sea".
According to the center, since the beginning of the year, 313 emissions of dolphins and porpoises (azovka) have been recorded on the coast of the Crimean peninsula. The leader, as usual, is the Sevastopol district (43.8%), in second place is the Saki region (18.5%). Azovs suffer the most, followed by bottlenose dolphins, emissions of white barrels are recorded less frequently, write "Crimea News".
According to experts, the statistics for the current year are similar to last year: as of July 20, 2018, 324 dead marine mammals were discovered.
Courtesy of kafanews.com